Velaa Private Island is the realisation of a dream to create a 'beyond luxury' exclusive boutique hideaway. This unique destination was developed to embody the very best of this unique archipelago, bathed by azure skies in the aquamarine waters of the Indian Ocean.
It is 10 a.m. on Velaa Private Island and the temperature is already climbing to 100. The cloudless sky and cerulean sea suggest that this will be just another day in tropical paradise, but there is an unmarked door at the resort's spa, built above the water at the end of a jetty.
"Get ready for my favorite feature on the island," says Petr Kolár, the frenetic, 6-foot-4 Czech architect who designed Velaa–not long before he pushes me inside. "It's the only snow room in the Maldives," Kolár laughs after letting me out.
The chill is exhilarating, but the effect is surreal. And it truly is odd to see one of the maintenance crew later shoveling the leftovers into the Indian Ocean, some 350 miles south of the equator.
Today, in addition to the main villas (many of which are built over the water), there are five four-bedroom residences, each with a private infinity plunge, gym and spa room. Then there is the exclusive Romantic Pool Residence, which is accessible only by boat and comes with its own outdoor dining gazebo.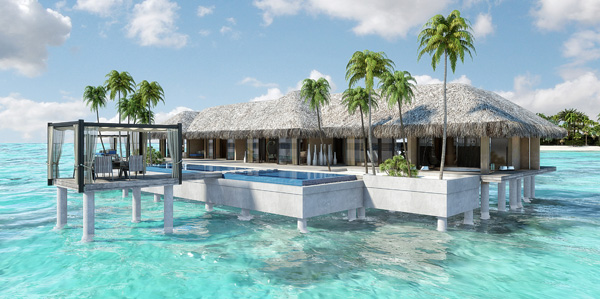 Check out the video for Velaa Private Island!